Get the Accuracy of a CT Scan Today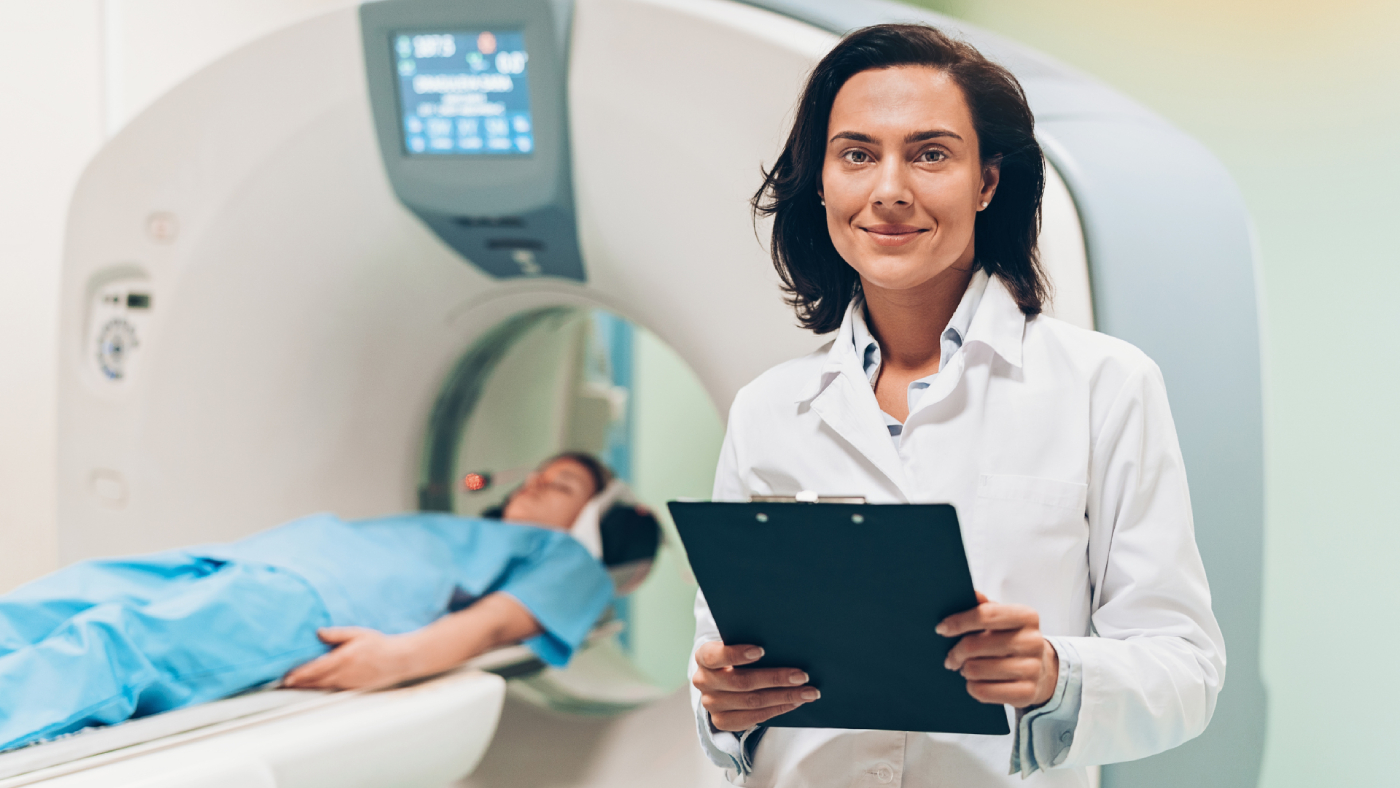 Huntington Beach Diagnostic Imaging and Breast Center offers you CT scan services that produce crisp, clear, and high-quality images to help clearly diagnose abnormalities. Get high-quality cross-sectional images in a complete series of high resolution, 3D image slices. We provide CT scan services for any part of the body, including the bones, pelvis, abdomen, lungs, chest, blood vessels, tissues, and brain. Get the most trusted CT scan Huntington Beach can provide. We are the preferred choice for healthcare professionals and residents of this area, as well as the Westminster and Fountain Valley areas.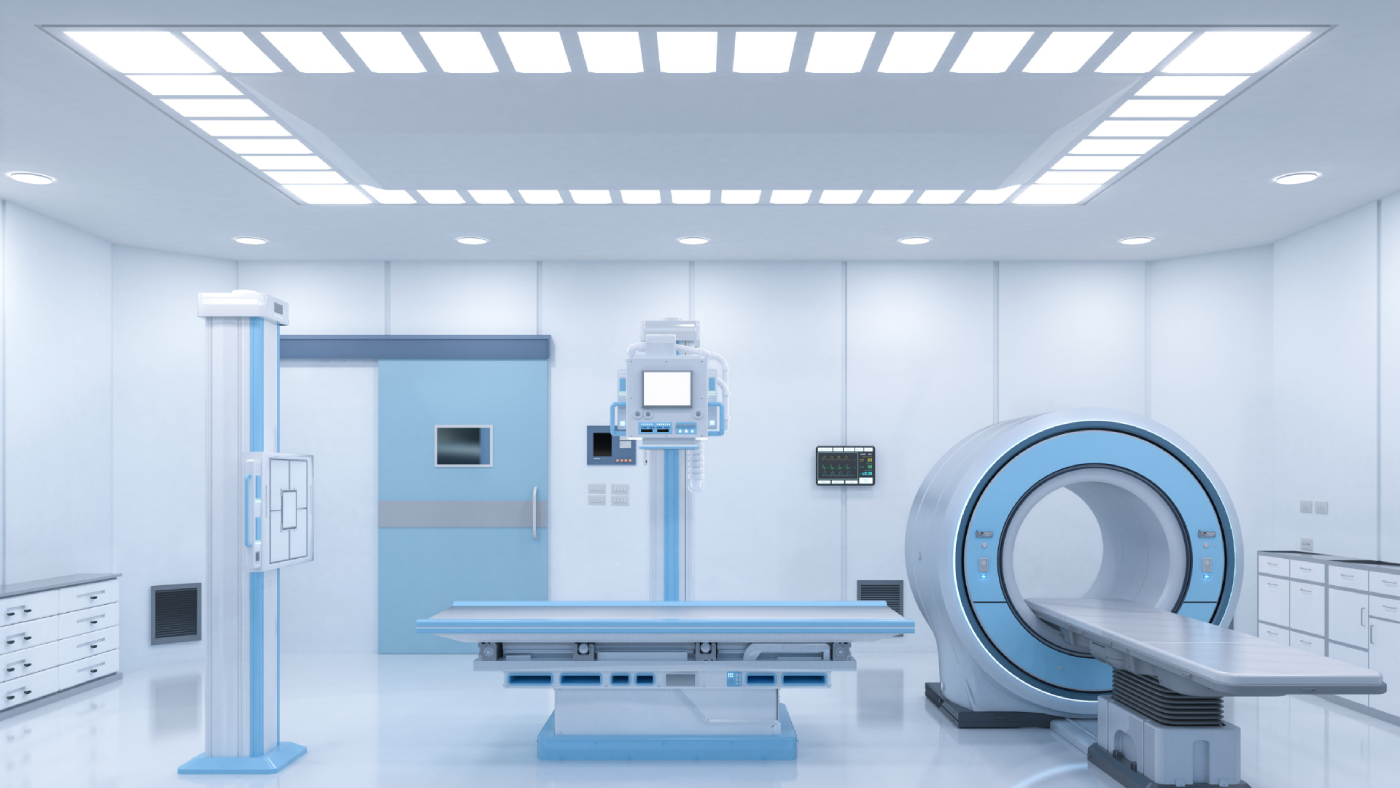 Computed tomography (CT) makes use of X-ray and new computer technology to take very detailed images of any part of the body. CT scans are produced by a CT scanner. The CT scanner has the ability to create cross-sectional images or slices that are taken from different angles around your body. Then a computer reconstructs the slices to produce real images.
CT scans can offer so much more detail than X-rays can. That means your doctor gets very detailed images so that he can make the most accurate diagnosis for you.
The benefits of a CT scan are many, but most importantly, it is the best method to quickly evaluate people who might be suffering from internal injuries after a car accident or some other types of trauma. It can be used to visualize almost every part of the body successfully.
Since a CT scan can be used to view almost every part of the body, it is used to diagnose injury or disease and to plan medical, surgical, and radiation treatments.
Your doctor might recommend that you get a CT scan if he needs to evaluate bone or soft tissue. CT scans can capture information in a cross-section format. That gives your doctor a better view of the size, shape, and also the position of soft tissue structures. With the information obtained from our CT scan in Huntington Beach, your doctor can make the right diagnosis and start the right type of treatment for you.
Your doctor might recommend a CT scan to:
CT Scan with Contrast Medium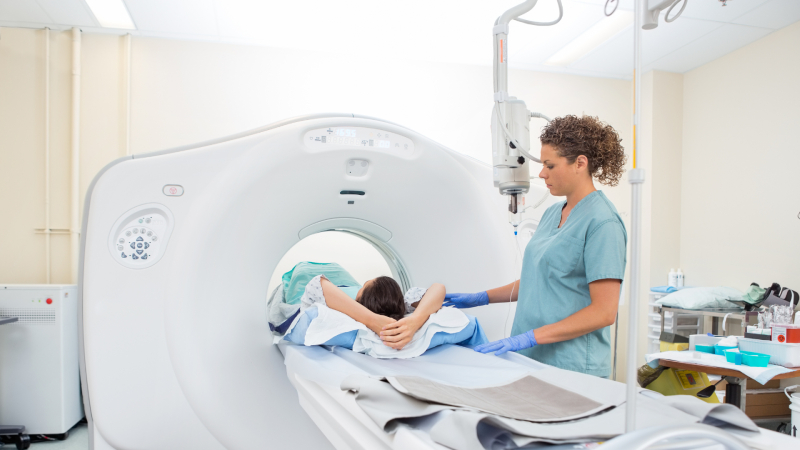 Some CT scans make use of oral or intravenous dyes to better see certain tissues. If IV contrast dye is required, it is administered by injection into a vein. You might feel a mild sensation during this injection. Sometimes, the contrast dye is inserted in the rectum to be able to better visualize the intestines.
The contrast dye used is iodine-based and not harmful. However, it can trigger an allergic reaction in some patients, which is why an iodine test is done before the CT. If you are aware of a known allergy to iodine, please notify our technician prior to your CT scan.
Other risks of contrast CT include getting ionizing radiation that happens during all X-ray and CT scan exams. If you are pregnant, ionizing radiation can be harmful to your unborn child.
Pregnant women should not undergo CT imaging. If you are pregnant, an MRI scan is safe for both, you and your unborn child.
Huntington Beach Diagnostic Imaging and Breast Center excels in customer satisfaction. Your safety and your health are of utmost importance to us. We do everything in our capacity to ensure you feel safe and secure in our comfortable environment. We do understand that medical insurance is hard to come by these days. Our services are open to you, whether you have medical insurance or not. We offer you our specialized services at a drastically reduced rate without compromising on the quality of our services and care.
Huntington Beach Diagnostic Imaging and Breast Center CT Services
What You Can Expect During a CT Scan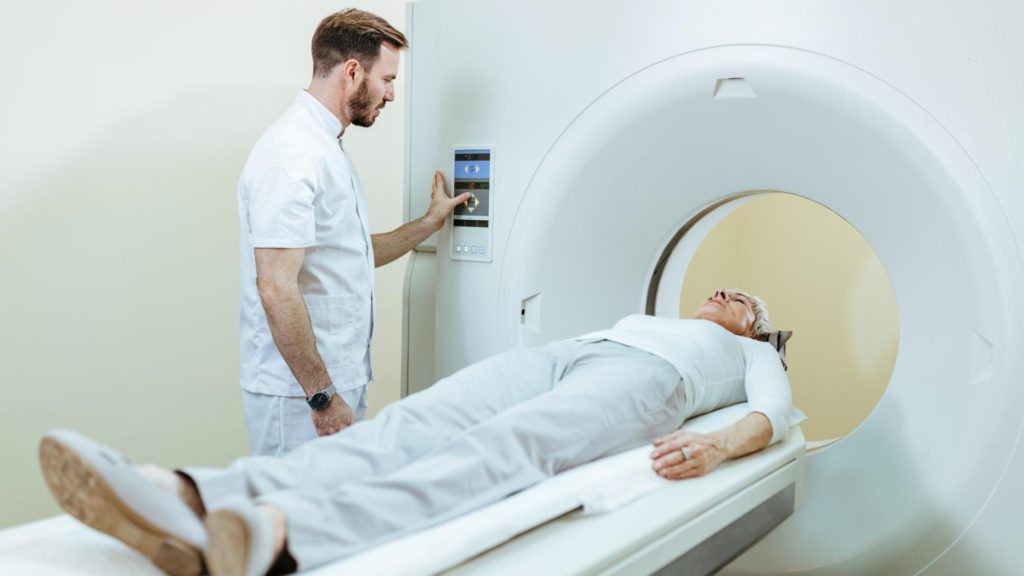 Depending on the area to be covered, scanning can take anywhere from a few minutes to longer. The total exam time will vary and depend on the specific study that is being performed. When you visit us at the Huntington Beach Diagnostic Imaging and Breast Center for a CT scan, you can ask our trained and friendly staff about the specific duration of your CT scan.
When you go in for a CT scan, you will be asked to change into a gown. That is to ensure that your own clothing does not obstruct the X-rays. You will also be asked to remove any metal objects such as a watch, jewelry, and eyeglasses that would interfere with the image results.
You will be asked to lie on a table. Our staff will give you certain instructions about what you can expect. They will let you know in advance what you might experience and how the test will proceed. The technician might also ask you to hold your breath for a few seconds when he signals you to do so.
When the exam begins, the table will move to a starting position, pause, and finally, move to the scanning position. On the table, the gantry or a donut-shaped structure will surround you. This structure contains the X-ray tube that generates invisible X-ray beams. The gantry produces very minimal noise –you may hear mechanical humming. That humming is the sound of the X-ray tube rotating within the gantry.
You will be expected to lie very still during the procedure. Sometimes, you might be asked to hold your breath for a few moments during the procedure. The technician will explain this to you in detail.
It's very critical that you stay absolutely still during a CT scan. Any movement can lead to blurry images. If your child or toddler needs a CT scan, then the doctor might recommend a mild sedative to keep your child calm.